Setting up a company in Ireland
Did you know there are annual accounting requirements that should be followed once your company is set up? If you are thinking of setting up a company, there are crucial steps to ensure your company is set up correctly from the beginning.
Our team here at Whelan Accountancy will help you set up the right structure. Not only will our team be able to prepare and produce necessary financial documents, but we can help your business grow through our professional advice, assist in creation of a solid business plan, as well as advising on tax saving incentives and procedures.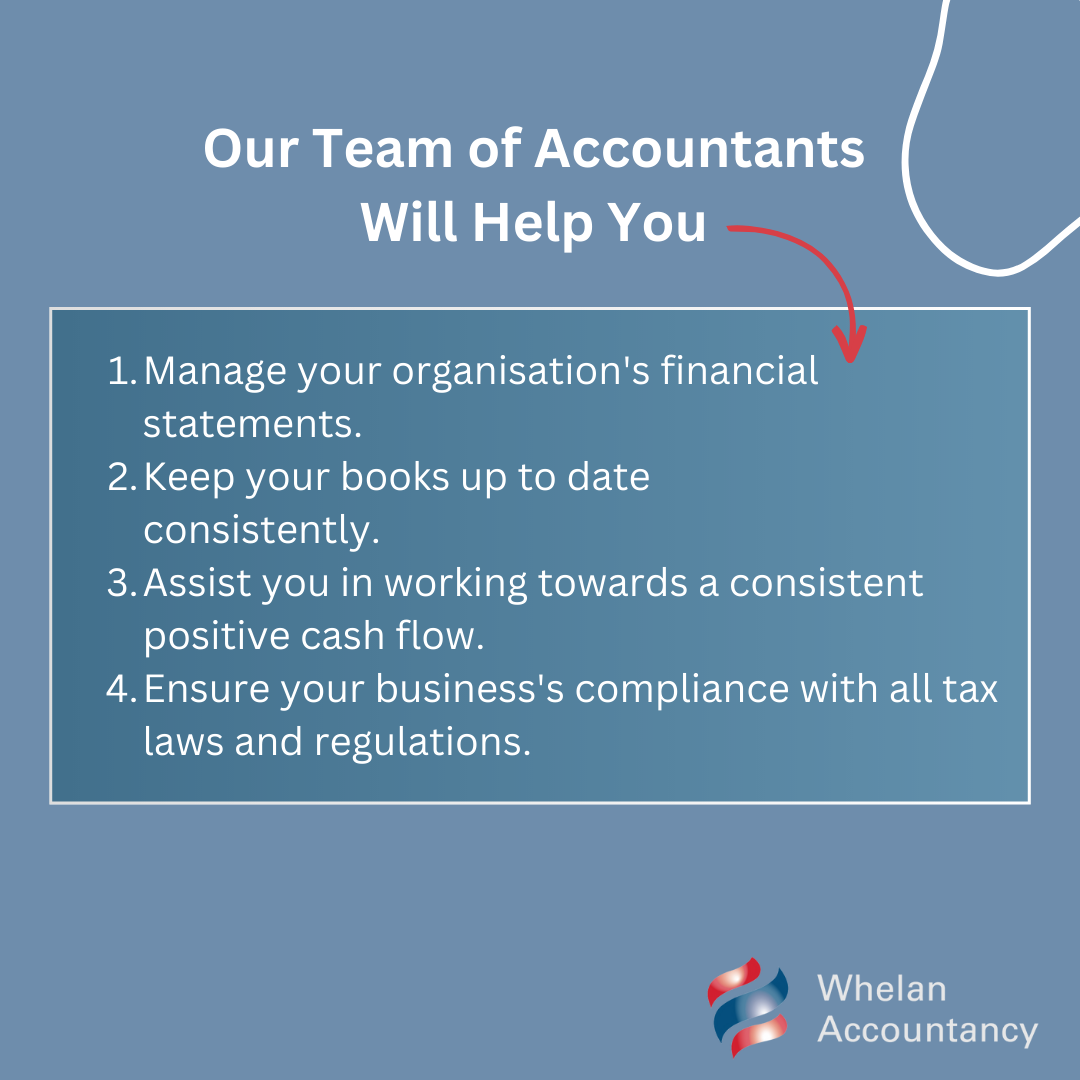 The 3 initial steps involved in setting up your Business are:
Decide on the right Structure
The type of legal structure you choose depends on what kind of business you are operating, and who you will do business with. You can set up your business as:
A Sole Trader

A Partnership

A Limited Company
A Limited Company must be registered with the CRO and requires at least 1 Director and Company Secretary. We can assist in the Company set up with the CRO. For Sole Traders and Partnerships we recommend registering a Business Name with the CRO.
2. Tax Registration
 There are separate processes for Tax Registration for each structure. The main Tax categories are:
VAT – Tax applicable to sale and supply of goods and services

PAYE – Payroll Taxes

Corporation Tax – Tax on Profit of Limited Companies

Income Tax – Tax on self employed

RCT – Contracts Tax related to the Construction Industry

CGT – Capital Gain tax on sale of assets
We will advise and assist in the registration process and the subsequent applicable Returns
3. Bank Accounts
Limited Companies are required to have separate designated Bank Accounts. We always recommend Sole Traders and Partnerships to open separate accounts from their personal Banking. The current AML (Anti Money Laundering) requirements with Account Opening in Banks can at times seem cumbersome. We will assist in each step of this process.
Some links which will assist in the process are :
Companies Registration Office (CRO)
Contact us below today if you have any queries or concerns with the above, or if you have questions in relation to our accounting services.
Contact us tod
ay to see how we can help you and your business plan for the future
Book a Free 30min Consultation